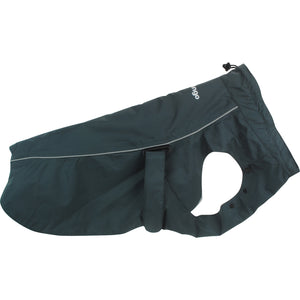 Red Dingo Perfect-Fit Rain Coat For Dogs - Charcoal Gray
Regular price
$45.99
$2.00
Unit price
per
Price Varies By Size
With its unique, fully adjustable features, Red Dingo's Perfect-Fit Rain Coat is designed for all dog shapes and sizes. With back leg loops and reflective trim, this coat won't cramp your dog's style. Sealed seams and water and windproof construction ensure comfort in any weather. Polyester shell with mesh lining.
Adjustable neck
Reflective trim for safety
Sealed seams
Adjustable belly & chest
Machine washable
Water & Windproof layer
Sizing Information

Please measure your dog for the right fit.

25
- Length: 10" 25cm; Head & Neck: 12 1⁄2" 32cm; Waist: 18" 46cm
30
- Length: 12" 30cm; Head & Neck: 16" 41cm; Waist: 22" 56cm
35
- Length: 14" 35cm; Head & Neck: 18" 46cm; Waist: 25 1⁄4" 64cm
40
- Length: 16" 40cm; Head & Neck: 20" 51cm; Waist: 28 1⁄4" 72cm
45
- Length: 18" 45cm; Head & Neck: 21 3⁄4" 55cm; Waist: 311⁄2" 80cm
50
- Length: 20" 50cm; Head & Neck: 22 3⁄4" 59cm; Waist: 34 1⁄2" 88cm
55
- Length: 22" 55cm; Head & Neck: 24 3⁄4" 63cm; Waist: 37 1⁄2" 96cm
60
- Length: 24" 60cm; Head & Neck: 26" 66cm; Waist: 41" 104cm
65
- Length: 26" 65cm; Head & Neck: 27 1⁄2" 70cm; Waist: 44" 112cm
70
- Length: 28" 70cm; Head & Neck: 28 3⁄4" 73cm; Waist: 47" 120cm
Yep. Free Shipping On Everything.

We are proud to offer fast, free shipping on all orders within the continental U.S. PupLife ships to all lower 48 states. We don't ship to Alaska, Hawaii or outside of the U.S. Please provide a reliable, physical address to accept your package delivery. We do not ship to Army Post Offices (APO) or Fleet Post Offices (FPOs) at this time.

Most Orders Ship Same Day
Most PupLife products ship out from our warehouse on the same day - at the latest 48 hours. Exceptions include most
Dog Beds
and
Dog Tags
(usually 3-5 days), and engraved collars (please allow 2 weeks). Your order may ship in multiple parcels and these packages may arrive on different days.
We Ship Via USPS, UPS & FedEx
PupLife ships via USPS (First Class or Priority Mail), UPS Ground and/or Federal Express Ground. PupLife will select the appropriate carrier to deliver your package(s), depending on your order's contents, weight, size and destination.


Where's My Stuff?
Most orders ship within 48 hours, however it is not unusual for a large order to ship within 3-5 business days. Don't worry, your order is important to us and we are working to ship it out as soon as possible!
If any item is back ordered, we will contact you via e-mail to let you know your options. You will receive an official shipping notification via e-mail as soon as your order ships. If online tracking is available for your order, we will also include a tracking number with your shipping notification.
If you have not received a shipping notification within 7-10 business days, please
Contact Us
for more information. We are here to help, and we respond to most e-mails within 1 business day.
Non-deliverable, Refused or Unclaimed Orders
Packages returned to PupLife as non-deliverable, refused or unclaimed for any reason will be processed as a standard return. You may review our
Returns Policy
for more information.
---
Share this Product
---